Under 3 Program.
KIN means family—and we are here for yours.
This is why the Montessori East Under 3 program is called KIN.
It's for you and your child.
So come into our play space, let your child explore while you discover a new way of seeing everything through their eyes ... a whole new world of parenting awaits you.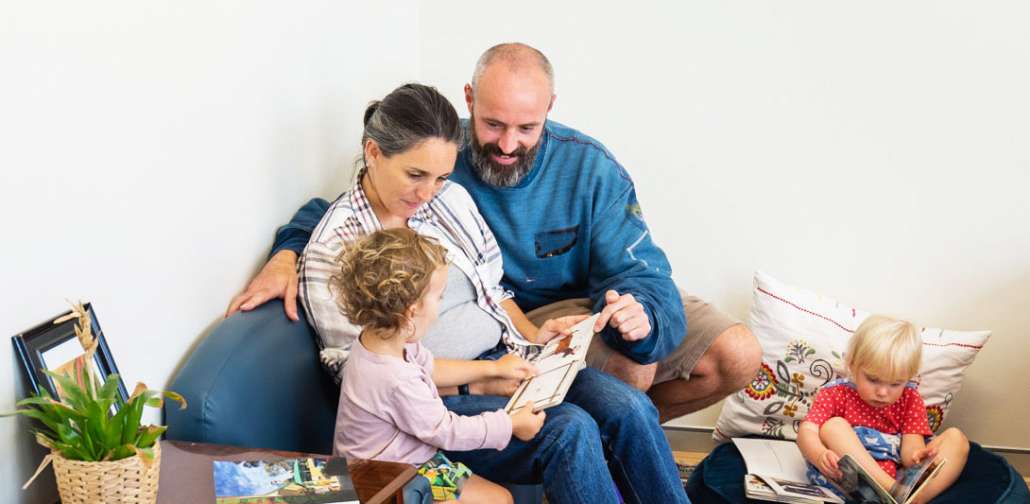 For the child.
Face-2-Face is our child-centred program. Your child works independently in our play space while you observe from a comfy cushion, learning the Montessori approach to parenting.
For the parent.
When face-to-face is not possible, our new virtual parenting program continue to help parents. And you can book a private consultation for added support. Whatever you need, we find ways to be there for you.
Parent & Child Group Classes
**Classes are closed during lockdown** 
Crawlers (6-12 months old)
ONE SESSION PER WEEK - 8 WEEK PROGRAM 
Wednesdays
For children who are on the move and are rolling or crawling.
The KIN Play Space has carefully selected materials that are freely available for your child to explore. 
A trained Montessori guide will go through a parenting module with you with new articles and activities for you to practice each week. There are two terms worth of modules for this age group. Topics include movement, language and how to choose age appropriate activities.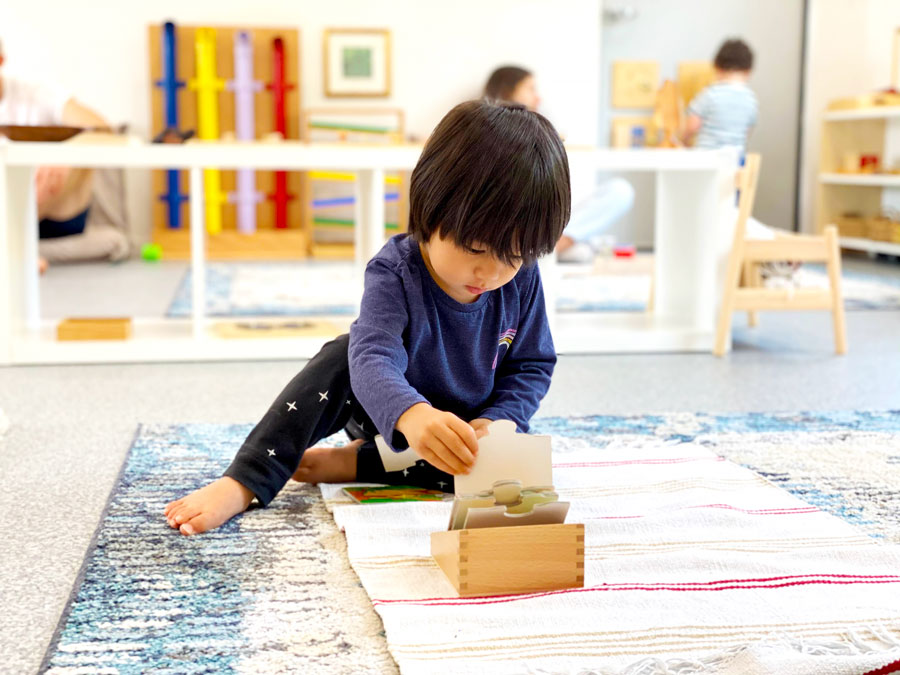 Beginners (13-18 months old)
ONE SESSION PER WEEK - 8 WEEK PROGRAM 
Fridays
The KIN Play Space has carefully selected materials that are freely available for your child to explore.
A trained Montessori guide will go through a parenting module with you with new articles and activities for you to practice each week. There are two terms worth of modules for this age group. Topics include movement, language, toileting and how to choose age appropriate activities.
The conversations will be held inside the garden area of the KIN Play Space before moving into the room where parents will learn how to make observations with the help of a trained Montessori guide.
BONUS Online Program access - access to KIN On Demand Library and Live Webinars for the term. See what's in the library here.
Toddlers (18-36 months old)
ONE SESSION PER WEEK - 8 WEEK PROGRAM
Monday - Friday
For children who have been walking steadily for sometime and are able to carry a tray with some objects. Ideally your family would have had one term in the Beginners Montessori Program, but this is not a prerequisite. If you are unsure and your child is on the younger side, then it is best to book into the Beginners Montessori Program first.
The sessions will be divided into TWO SECTIONS. The 9.00-10.30am session will start with Section A and end with Section B. The 10.00-11.30am session will start with Section B and end with Section A.
Section A: KIN Play Space - Child oriented
The KIN Play Space has carefully selected materials that are freely available for your child to explore.
Parents, we'll be asking you to sit on comfortable floor chairs at safe distances. Conversations between adults will be limited whilst indoors so that you can watch and listen without distraction. Your main role will be observation. The guides will assist you in this role.
Section B: KIN Carer's Circle - Adult oriented
One of the Guides will join you for a casual snack and chat. We will go through a module article each week and are open to questions about things that come up at home and during the session.
Montessori at Home Parenting Program
Start learning about the Montessori philosophy and how to implement with the following "At Home" options.  For parents of children aged 0-3 years,  we focus on the role of parents and caregivers as we share knowledge on how to aid your child's development.
Parenting masterclasses are offered live on Zoom each month. The one-hour classes feature a 30-minute presentation followed by an interactive 30-minute Q&A session where you can ask for advice and guidance from our panel of Montessori experts. The presentation is also recorded and can be purchased from our On Demand Library.
Access all of the previous masterclasses along with course notes from our online library. The topics covered range from exploring your child's creativity, how to make meaningful connections, schedules and routines to anxiety, healthy eating, toileting and discipline.
Parenting Guidance - 0 to 3 years
Do you have parenting questions that need real, practical advice? Our consults can be done from the privacy of your home at a time that is convenient to you.
If you're pregnant, we have a qualified post-partum doula who can support and guide you before baby arrives and teach you how to look after yourself during pregnancy and the first 40 days after birth.
Consultations (Parenting and/or Pregnancy)
30-minute private consultations via phone or Zoom
Choose between pregnancy advise or early parenting tips
Book a time that is convenient for you
Have someone on the line while you're in the comfort of your own home. 
Pregnancy consults make a lovely baby shower gift.
(1 for $80 or 3 for $180)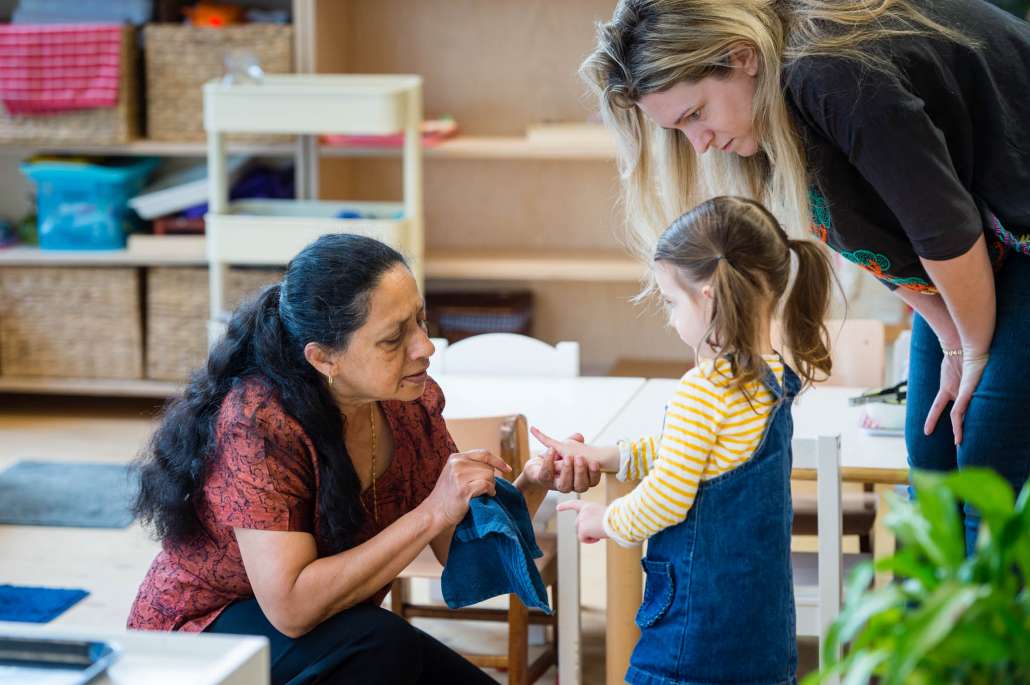 Our Under 3 Experts.
Under the gentle guidance of Raji and Tea, your pregnancy and early parenting journey is sure to be on the right path. Their patience and wealth of knowledge puts any anxious parent at ease and you will have the confidence and headspace to nurture and enjoy raising your little ones.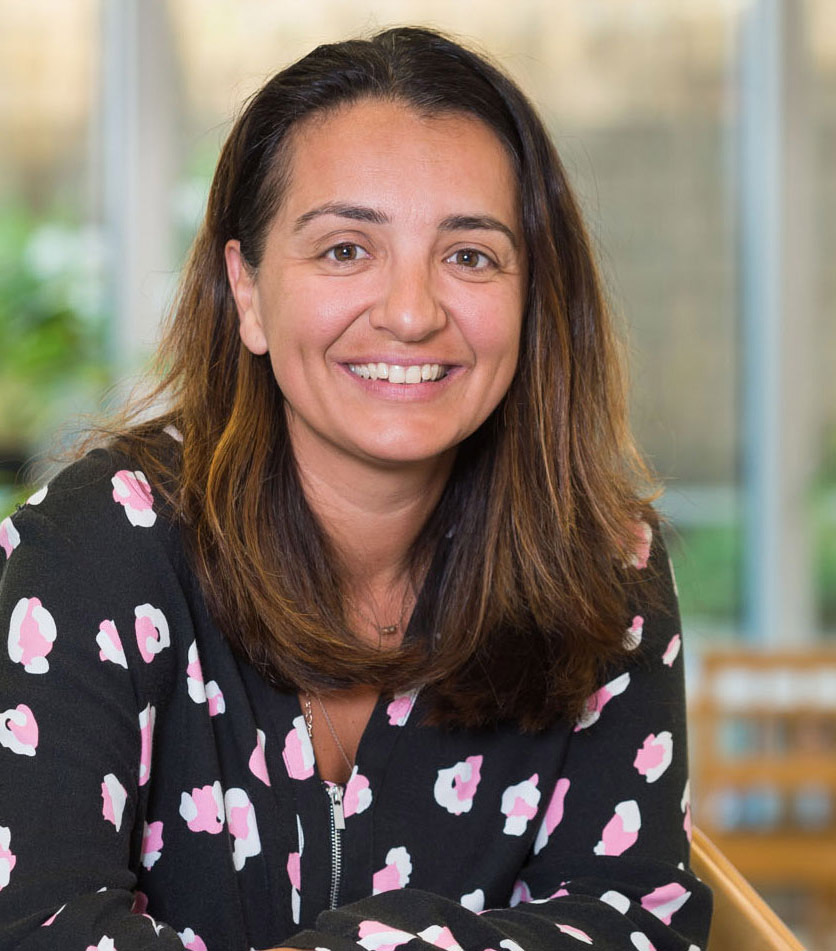 Tea Bezos
An AMI qualified teacher, Tea holds a Bachelor of Education from UNSW and Masters in Educational Administration. Prior to finding Montessori, Tea worked as a primary and high school teacher for 10 years. After having her first child she looked into alternative teaching models. She started working with Raji in 2014 where she discovered her passion for guiding young children and their families. In 2018, Tea completed her Assistance to Infancy Diploma and Post Partum Doula Course. Tea now runs the KIN 0-3 program.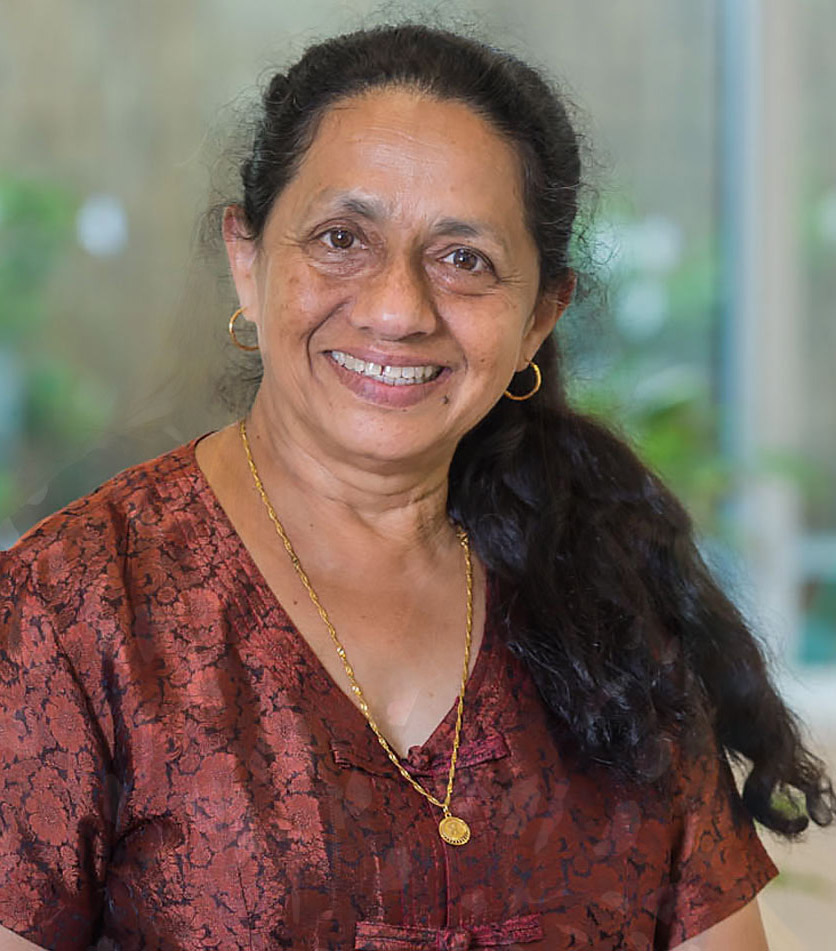 Raji Sivapalin
A founding Montessori East teacher. She joined the school in 1988. An AMI qualified pre and primary school teacher from 0-12 years, she also holds a Bachelor of Teaching from Western Sydney University and a diploma as a postpartum doula. Raji is central to the school's leadership team guiding and supporting the entire teaching staff. In addition, she established the KIN Parent and Child Education Centre in 2018 with the Under 3 program. As the school's Education Leader, she regularly spends time in the classrooms with the teachers and children, sharing her wisdom and deep love for the children and Montessori education.
Pre-primary program
Cycle 1: 3-6 years.
The Children's House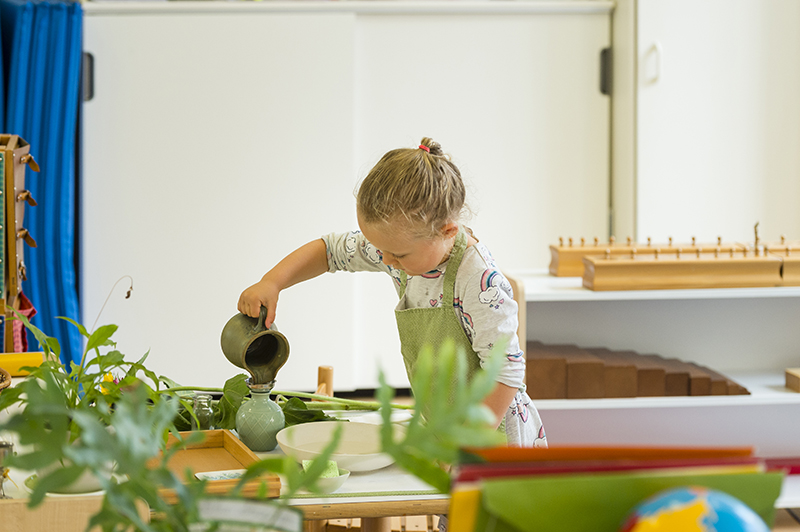 "Especially at the beginning of life must we ... 
make the environment as interesting and attractive as we can." 
Maria Montessori
Modelled after Maria Montessori's 'Casa di Bambini', the Children's House focuses on developing specific skills in a carefully prepared environment that incorporates bespoke materials appealing to the child's different sensory needs while developing specific skills.
Children move around choosing activities, having fun discovering and gradually learning self-sufficiency. Working at their own pace builds independence and social awareness, while gaining knowledge and skills.
It also promotes self-discipline and concentration.
The activities in Cycle 1 cover a broad curriculum and includes: Practical Life, Sensorial, Language, and Mathematics and Culture.
Read about Cycle 1 in our blog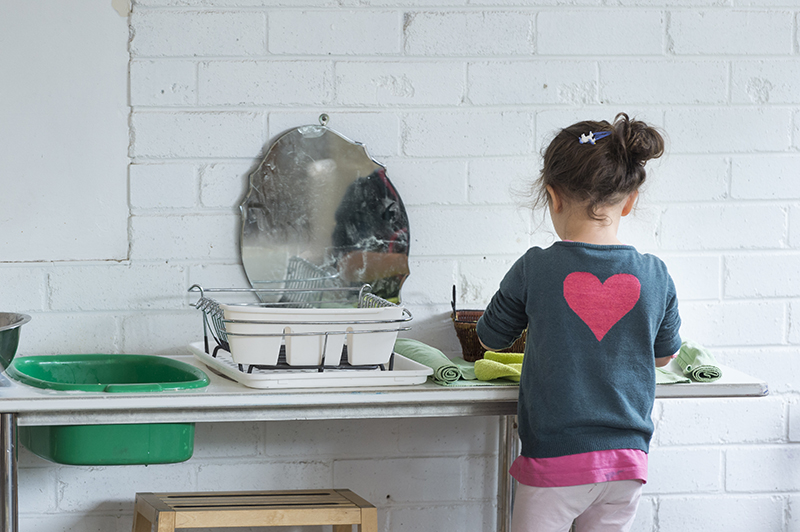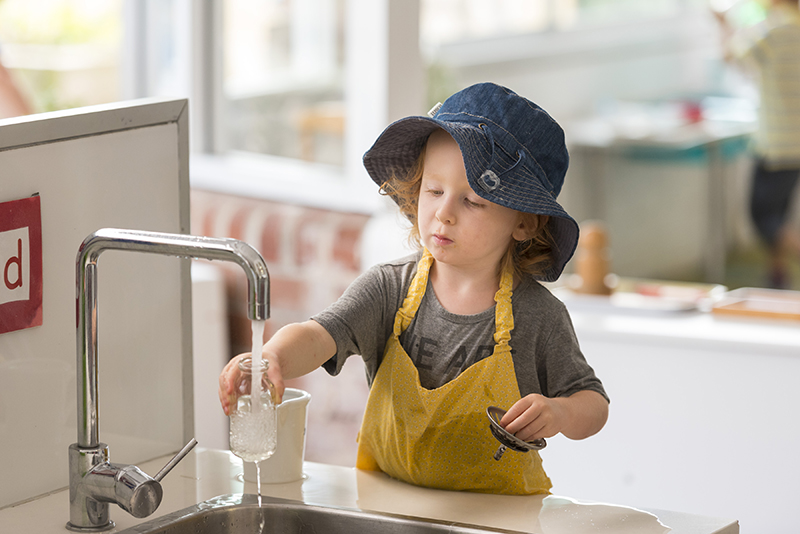 Primary school
Cycle 2 & 3:
6-12 years old.
Learning & Discovery Communities
"Joy, feeling one's own value, being appreciated and loved by others, feeling useful and capable of production are all factors of enormous value for the human soul."
Maria Montessori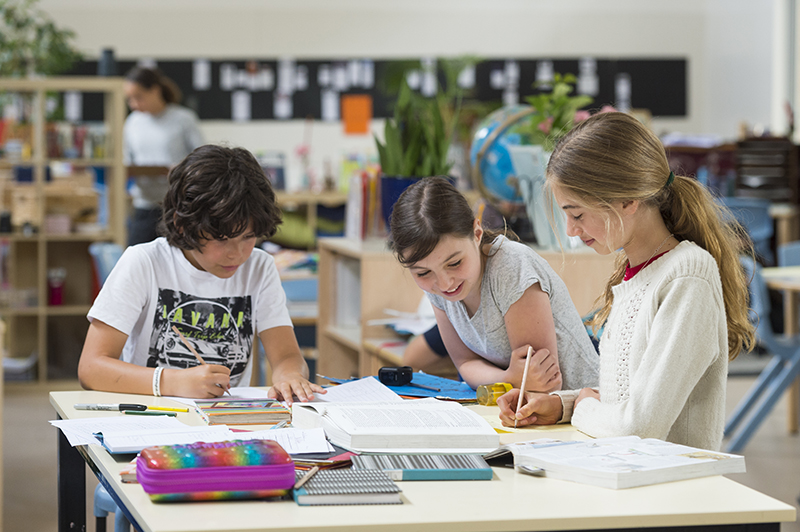 Primary school is a non-competitive space, with students often working in small groups rather than individually or as a class. Students are introduced to five overarching themes: astronomy and earth sciences; life sciences; social sciences; creative arts, literature; mathematics.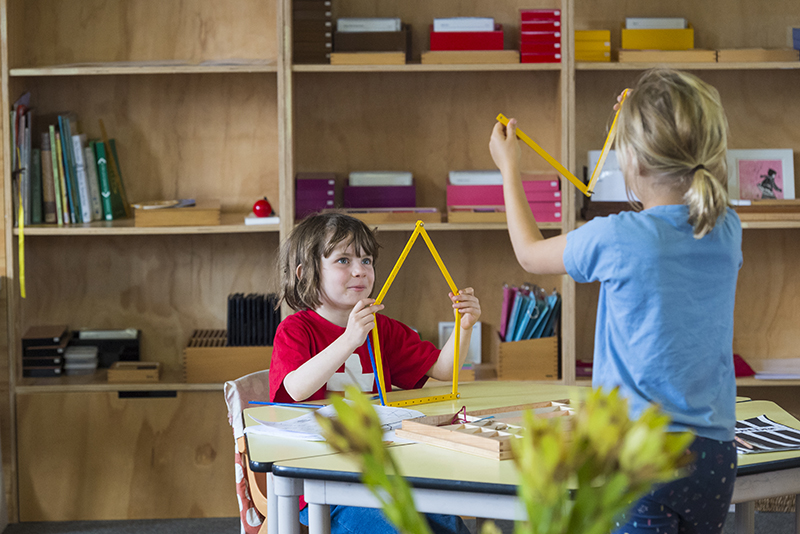 In contrast to mainstream primary schools where each classroom represents a single year of study, the primary school is divided into two types of classrooms: 6-9 year old students (Cycle 2) and 9-12 year old students (Cycle 3). Students spend three consecutive years in the same class with the same educators. The result is a richer, sustained community that evolves over time. Students enter as the youngest in the community, then over time take on the role of leaders and experts as they become the oldest.
In Cycle 2, students encounter more abstract ideas, from scientific to social, philosophical and psychological. This transition continues in Cycle 3 where much of the focus is on abstract ideas. Building on from Cycle 1 the classrooms still use concrete materials and hands-on activities to solve problems. 
Democratic Society.
Codes of conduct are discussed at weekly meetings to decide duties and responsibilities and resolve problems. Actively contributing through practical roles in maintaining the space is an important aspect of classroom participation.
The lessons in Cycle 2, 3 form part of the daily curriculum and are in accordance with the NSW Education Standards Authority. They fall into the key learning areas: Language, Mathematics, History & Geography, Science and Technology, Personal Development, Creative Arts, Social and Emotional Development. Read our blog to learn more about the primary program.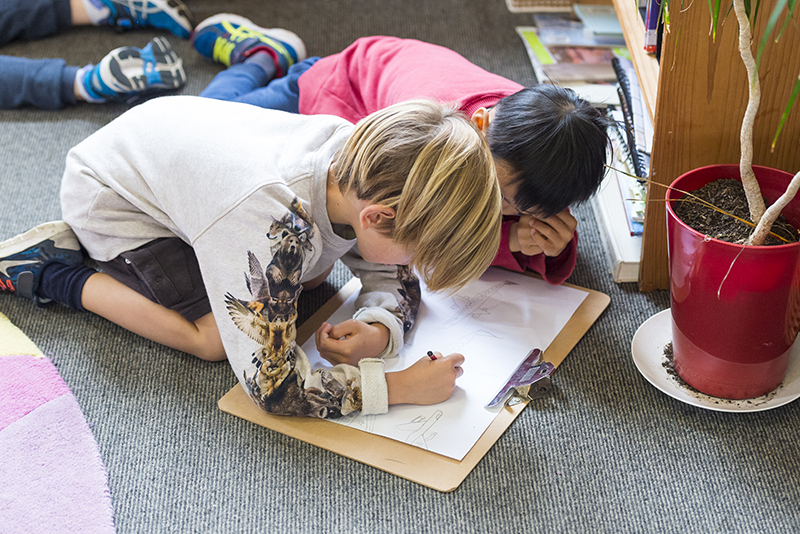 Goings Out.
Groups of students plan and carry out their own investigative excursions, building life skills and independence, while learning about particular topics.
Community Engagement.
This is pursued through group projects around the school, as part of the local community, or even further afield. See Community.
High School.
A High School with Higher Ideals
Waitlist is now open.
You will receive pre-launch updates and be the first to receive pre-release enrolment forms.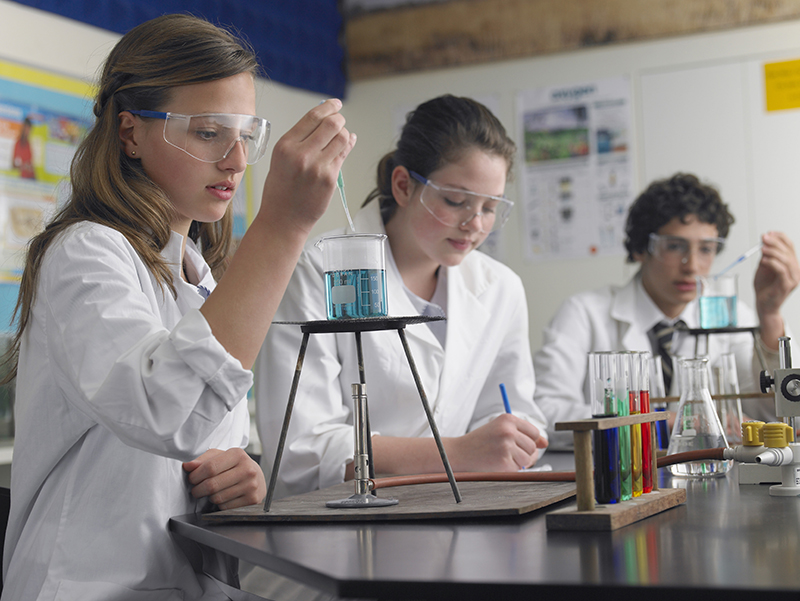 The new Montessori High School will provide a significantly different learning environment and culture to a conventional, mainstream high school.
Montessori East acknowledges the need for meaningful, sympathetic adolescent development as students explore their own identity, interpersonal relationships and their role in the world.
As a consequence, school will feel less traditional and more suited to the demands and opportunities of contemporary life.
Students will work collaboratively on real life projects; have personally tailored working plans; and specialist teachers experts in their field.
Our aim is that our students leave as good people: to carry a sense of wonder, discovery and social responsibility out into the world, equipped with all that Montessori independence, empathy and resilience necessary for life beyond the classroom.
The school will be separated into Middle School (years 7 - 10) and Academy (years 11-12).
The final two years will offer the International Baccalaureate Diploma Program, accepted in NSW as an alternative to the Higher School Certificate.
The Montessori High School will be created in collaboration with Inner Sydney Montessori School.