KIN@HOME.
Your unlimited resource of Montessori activities for parents with children under 3 
For families isolating during COVID or home schooling, Montessori East launched a personalised program for you and your child at the beginning of term 2. 
You could choose to make the experience as comprehensive as you like to suit you and your child's needs, from a song and story in the morning and a lesson with our Montessori guide to tailored one-on-one parenting consultations, virtual home visits and group parenting workshops.
Be guided by a qualified Montessori teacher to:
Set up your home for a newborn, crawler or toddler

Nurture yourself in the first 40 days after giving birth

Support your child's language development 

Deal with toddler tantrums, sibling rivalry and toileting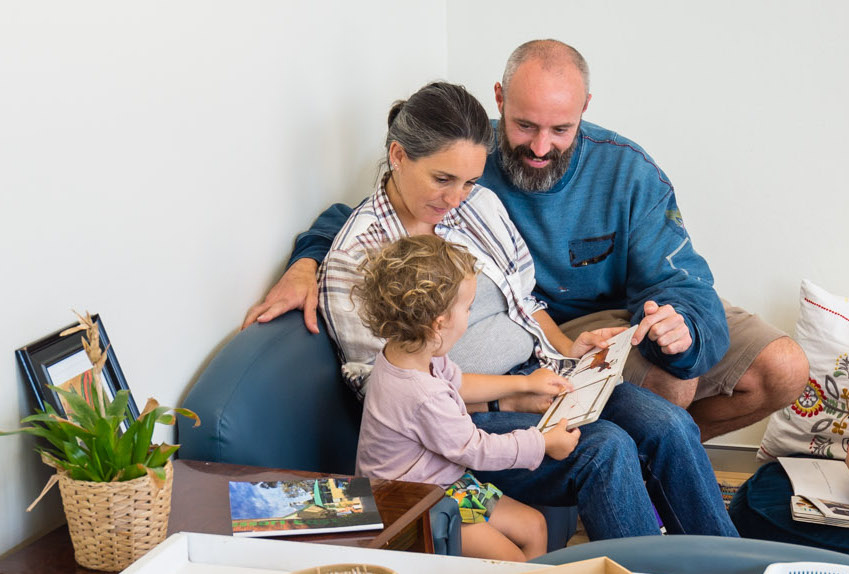 With social restrictions easing and daily life going back to normal, we are still here to support you and your child's needs with practical fun-filled activities that can be easily incorporated into daily living.
What's involved:
Story & Song Time - A Montessori Guide will hold a 15 min song and story time each weekday during term at 10:00am.

Group Parenting Talks - Each fortnight on a Thursday evening at 8pm a Montessori guide will hold a parent talk to help you on your parenting journey. There are two more workshops remaining; one on Engagement and another on Creativity.

Personalised Consultations - A Montessori guide will schedule fortnightly private consultations with you during office hours. This is a chance to discuss individual questions more in depth or do a virtual 'home visit' to help you set up your space.

Online Learning - Access to the online Google Classroom where we will post videos, activities and resources that you can do with your child at home. It will also house all of the resources from the talks that we do each fortnight.
Group Parenting Talks. 
8pm every fortnight on Google Meet for limited and unlimited pass holders.  
If you'd like to participate in the group parenting talks, you can upgrade your free pass to a limited or unlimted pass now.
7 May - Routines vs Schedules
Children under 3 have a very strong sense of order and require a certain amount of predictability in their life. In this talk we will discuss how to create a work/toddler/life balance and how this might look with working parents.
21 May - Meaningful Connections
Some of us may be home all day, however it seems that our children still want more. In this talk we will discuss the key ways to create meaningful connections with your child (and others!), so that they keep a 'full bucket'.
4 June - Toileting 
In this talk we will discuss toileting. How to set up your space, how to get yourself mentally prepared, starting and troubleshooting.
18 June - Engagement
Discover the activities that will keep your child engaged for longer. In this talk we will hone your observations skills, so that you can choose activities that will keep your child engaged. We will also look at the dos and don'ts of playing with your children.
2 July - Creativity
Children under 3 are 'hands on' learners. This is a great time to introduce art and craft activities, but it can be difficult to know where to start, how to limit the mess and how to help our children be creative. In this talk we will be discussing how our actions can stimulate or stifle your child's creative process.
Under 3 - Parent and Child.
Born to learn
Montessori East offers group sessions, early parenting consultations and workshops for families with children under 3 years.
The programs are run out of KIN on the Montessori East campus and parents and carers are invited to attend with their child. The toddler program is designed for your child to work independently while the parent observes and learns ways to bring the Montessori approach into their home life.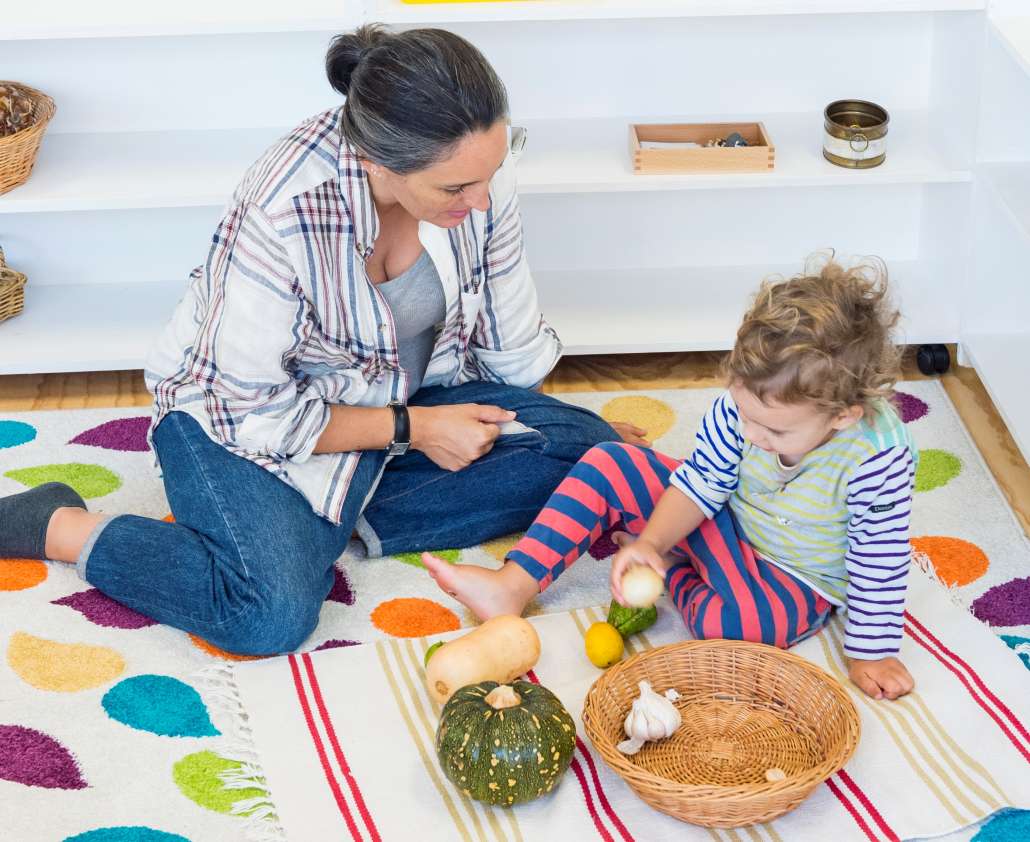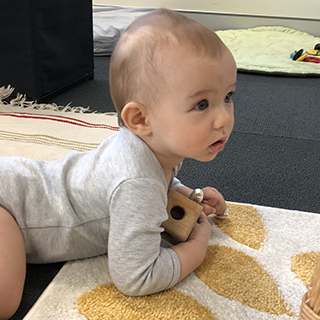 Crawler
This is a 8-10-week program catering for children who are now starting to scoot or crawl away from the parent and are more exploratory. The room is set up with developmentally appropriate toys and activities. The aim of the program is to give parents an understanding of the constantly changing child at this age and to give them an insight for what is to come in terms of behaviour and physical needs. Discussions are tailored to suit each group's needs; common topics include how to set up the bedroom, sleep, introducing solids, the dummy and helping with language development.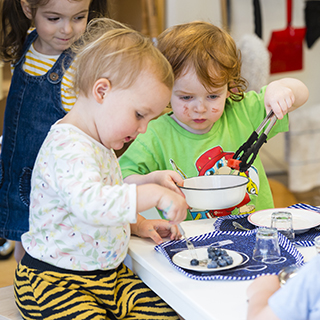 Beginners Montessori
(13 months and up)
This program is designed for children who are now walking and/or you are new to Montessori. The room is set up with a limited number of developmentally appropriate activities. The aim of this group is to help parents understand the Montessori principles before they move into the Toddler Community Topics of discussion include tantrums, sleep, food, toileting, sibling conflict and setting up space at home. The guides take parents and carers through the classroom so they understand their purpose as the child moves up into the next group.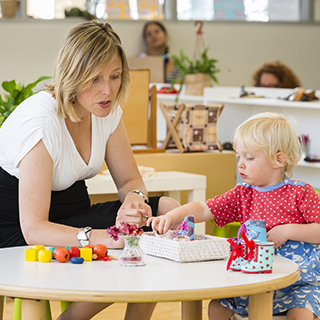 Toddler & Carer
(18-36 months)
This program is for families who have completed the Crawlers or Beginners Montessori program. The room is set up to allow your child to work independently. The classroom includes areas of learning, including, fine motor activities, language, self-expression and practical life. The aim of the group is to provide parents and carers an insight into the way to set up a space at home and to understand what activities a child of this age is capable of. The space allows the child to exercise his or her independence while the parent or carer takes the role as observer and facilitator.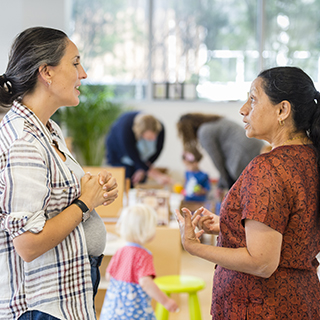 Pregnancy Consultations
These private consultations aim to give guidance or advice on physical and emotional care for any mother having a baby, be it their first or third. It will help prepare you and your family for years to come by teaching you how to look after yourself during pregnancy and the first 40 days after birth, creating a safe space, giving support and assistance for the mother.
If you're seeking a post partum doula to support you when you come home with your new baby, we have two on staff at Montessori East.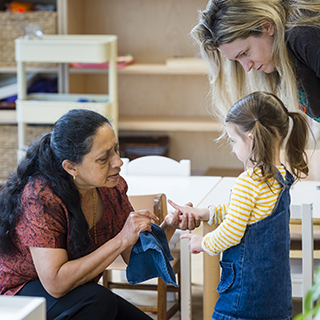 Early Parenting Consultations
Consultations are designed for parents with children from 6 months up to 3 years. Consultations offer practical tips on how to manage your child's developmental stages, how to set up the home and to deal with any challenges that may arise. Parenting is a big job and we understand how important it is to have that extra support when you need it most.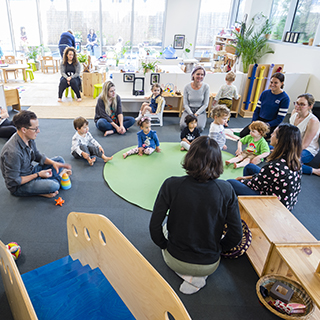 Parenting Workshops
We offer evidence-based support workshops for parents and carers seeking practical real-life tools to support their every day parenting. Topics often include: playground politics, toileting, sleep, dinner time conflicts and working with extended families.
Sign up to the mailing list and we'll keep you posted on the next parenting workshop.
Pre-primary program
Cycle 1: 3-6 years.
The Children's House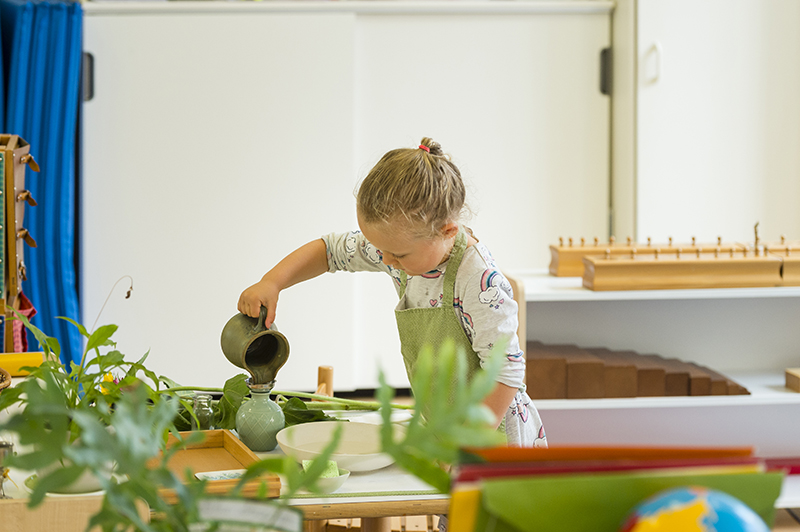 "Especially at the beginning of life must we ... 
make the environment as interesting and attractive as we can." 
Maria Montessori
Modelled after Maria Montessori's 'Casa di Bambini', the Children's House focuses on developing specific skills in a carefully prepared environment that incorporates bespoke materials appealing to the child's different sensory needs while developing specific skills.
Children move around choosing activities, having fun discovering and gradually learning self-sufficiency. Working at their own pace builds independence and social awareness, while gaining knowledge and skills.
It also promotes self-discipline and concentration.
The activities in Cycle 1 cover a broad curriculum and includes: Practical Life, Sensorial, Language, and Mathematics and Culture.
Read about Cycle 1 in our blog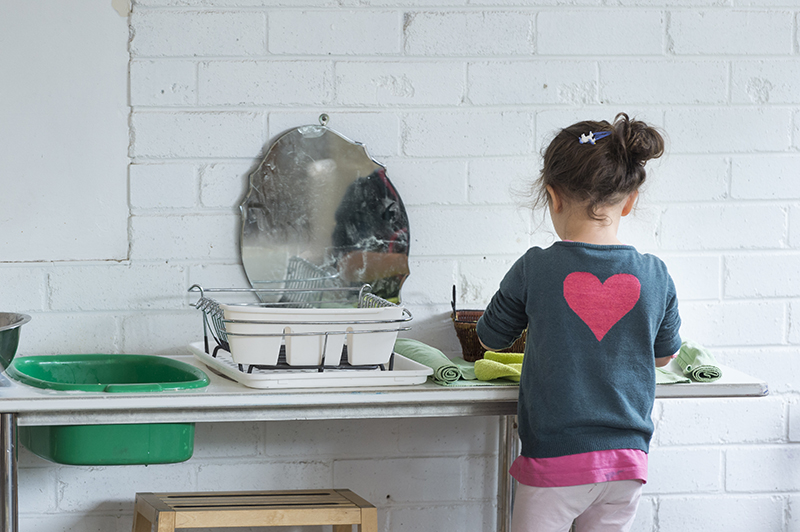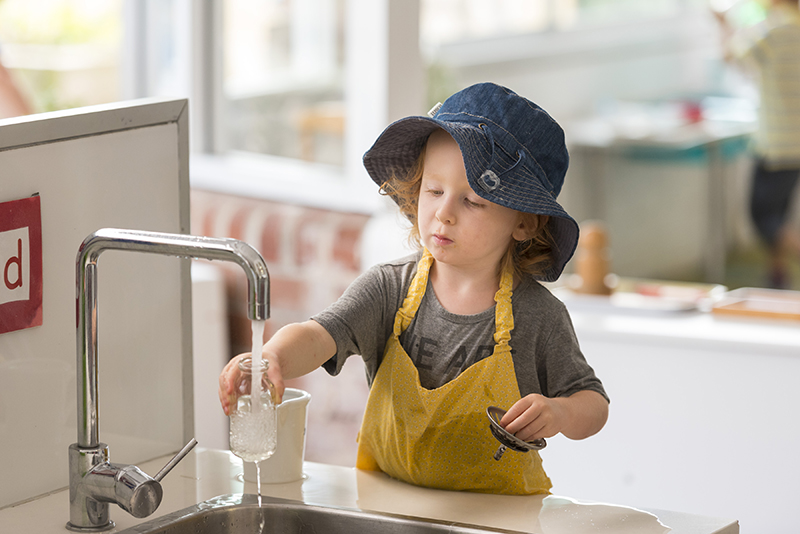 Primary school
Cycle 2 & 3:
6-12 years old.
Learning & Discovery Communities
"Joy, feeling one's own value, being appreciated and loved by others, feeling useful and capable of production are all factors of enormous value for the human soul."
Maria Montessori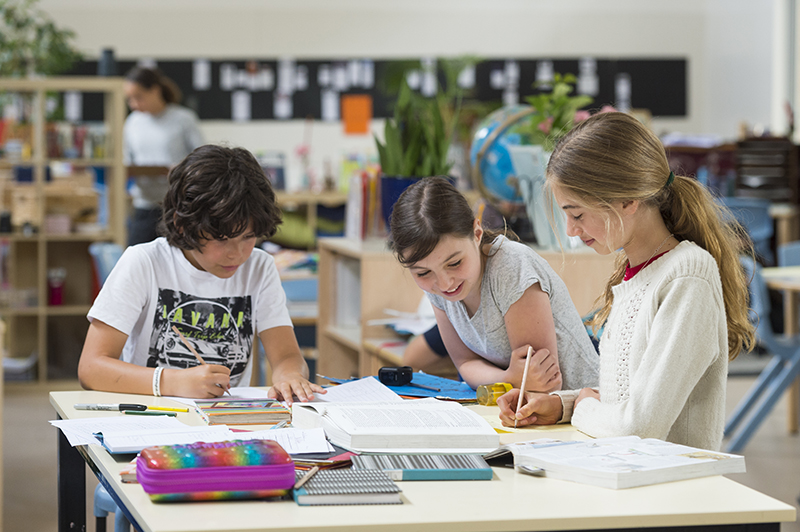 Primary school is a non-competitive space, with students often working in small groups rather than individually or as a class. Students are introduced to five overarching themes: astronomy and earth sciences; life sciences; social sciences; creative arts, literature; mathematics.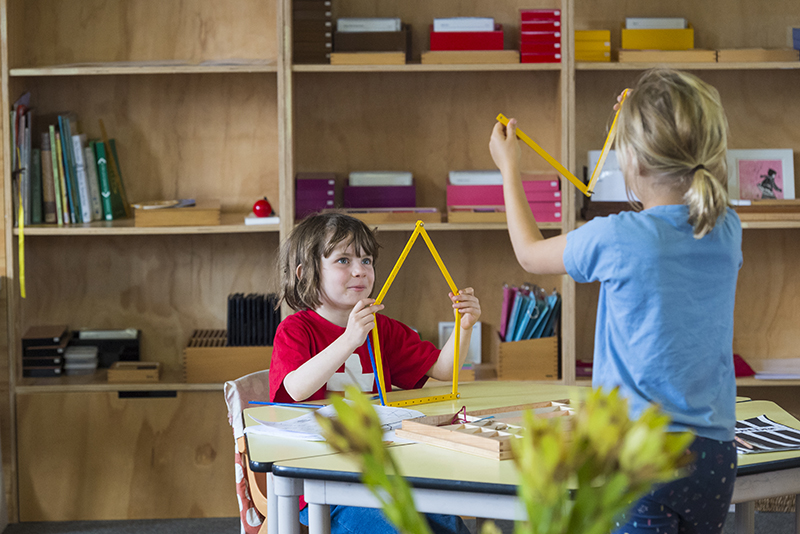 In contrast to mainstream primary schools where each classroom represents a single year of study, the primary school is divided into two types of classrooms: 6-9 year old students (Cycle 2) and 9-12 year old students (Cycle 3). Students spend three consecutive years in the same class with the same educators. The result is a richer, sustained community that evolves over time. Students enter as the youngest in the community, then over time take on the role of leaders and experts as they become the oldest.
In Cycle 2, students encounter more abstract ideas, from scientific to social, philosophical and psychological. This transition continues in Cycle 3 where much of the focus is on abstract ideas. Building on from Cycle 1 the classrooms still use concrete materials and hands-on activities to solve problems. 
Democratic Society.
Codes of conduct are discussed at weekly meetings to decide duties and responsibilities and resolve problems. Actively contributing through practical roles in maintaining the space is an important aspect of classroom participation.
The lessons in Cycle 2, 3 form part of the daily curriculum and are in accordance with the NSW Education Standards Authority. They fall into the key learning areas: Language, Mathematics, History & Geography, Science and Technology, Personal Development, Creative Arts, Social and Emotional Development. Read our blog to learn more about the primary program.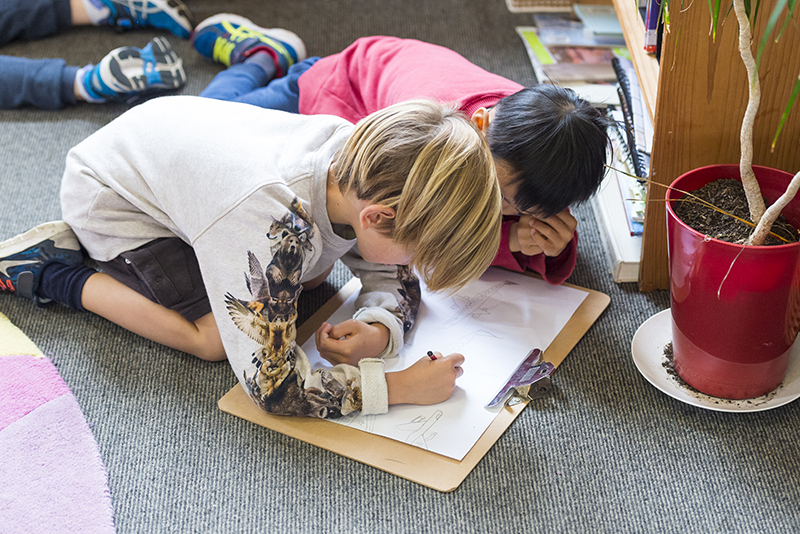 Goings Out.
Groups of students plan and carry out their own investigative excursions, building life skills and independence, while learning about particular topics.
Community Engagement.
This is pursued through group projects around the school, as part of the local community, or even further afield. See Community.
High School.
A High School with Higher Ideals
Waitlist is now open.
You will receive pre-launch updates and be the first to receive pre-release enrolment forms.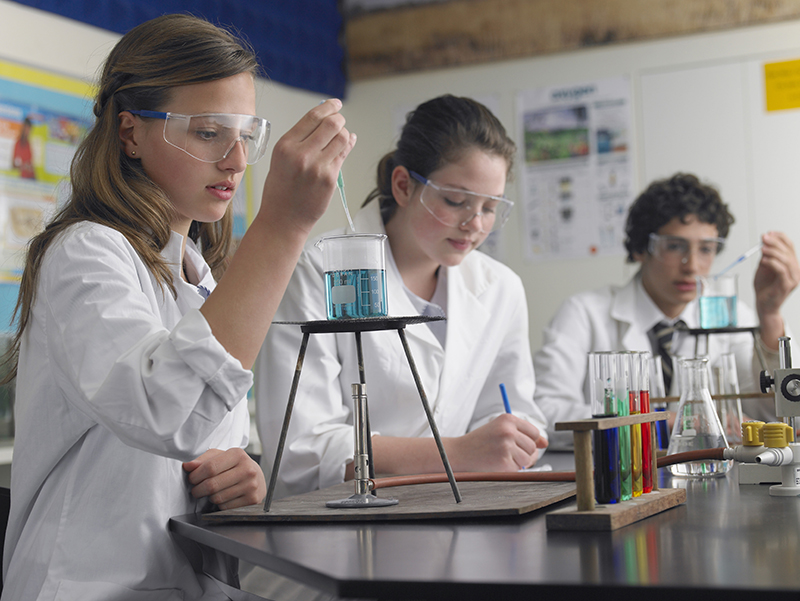 The new Montessori High School will provide a significantly different learning environment and culture to a conventional, mainstream high school.
Montessori East acknowledges the need for meaningful, sympathetic adolescent development as students explore their own identity, interpersonal relationships and their role in the world.
As a consequence, school will feel less traditional and more suited to the demands and opportunities of contemporary life.
Students will work collaboratively on real life projects; have personally tailored working plans; and specialist teachers experts in their field.
Our aim is that our students leave as good people: to carry a sense of wonder, discovery and social responsibility out into the world, equipped with all that Montessori independence, empathy and resilience necessary for life beyond the classroom.
The school will be separated into Middle School (years 7 - 10) and Academy (years 11-12).
The final two years will offer the International Baccalaureate Diploma Program, accepted in NSW as an alternative to the Higher School Certificate.
The Montessori High School will be created in collaboration with Inner Sydney Montessori School. It will be part of The Future Proof Project. Expected opening to be announced in 2020.