Under 3 Program.
KIN means family—and we are here for yours.
The KIN under 3 program is for you and your child. 
Join our KIN family and let your child explore while you discover a new way of seeing the world through their eyes.
If you have any questions, click the Enquiry button below to get in touch.
 
Enrol in Term 1, 2024 commencing 2 February.
Enquire here for a free trial: under3@montessori.nsw.edu.au
---
KIN Program.
Weekly face to face programs for three age groups are offered.
Parenting Movers program (6–12 months)
7 x 1 hour weekly group session
1 x nature walk 
1 x 30 minute private session
3 months access to On Demand Video Library 
2 x 30 min masterclasses + live Q&A
Parenting Walkers program (12–18 months)
7 x 1 hour weekly group session
1 x nature walk
1 x 30 minute private session 
3 months access to On Demand Video Library 
2 x 30 min masterclasses + Q&A
Parenting Toddlers program (18 months – 3 years)
8 x 1.5 hour weekly group session
1 x nature walk Sunday 20 March 9:30 to 10:30 a.m.
3 months access to On Demand Video Library 
2 x 30 min online masterclasses + Q&A
KIN @ Home 
We have a wonderful array of Montessori tools that will support you on your Montessori journey. Learn more about the Montessori philosophy and implement what you learn at home. 
Package includes:
Download the KIN@Home brochure
To enquire about full access to our masterclass and on demand library please contact us at under3@montessori.nsw.edu.au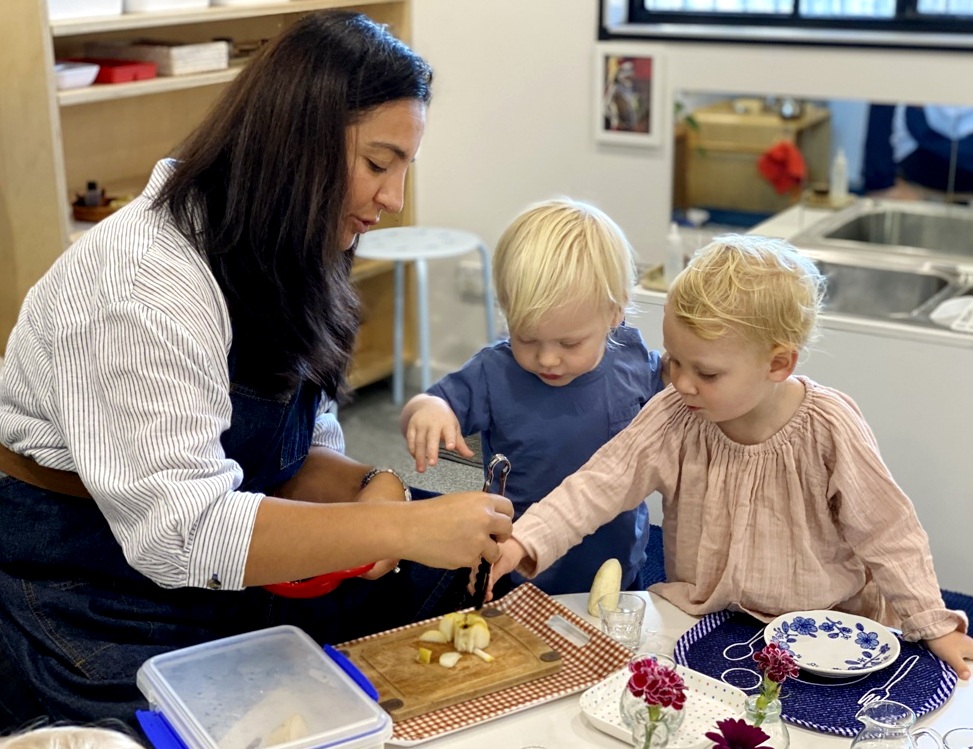 The KIN Team.
Left to right: Rachael Brincklow-Groves, Felicia Lui, Prue Liger and Tea Bezos.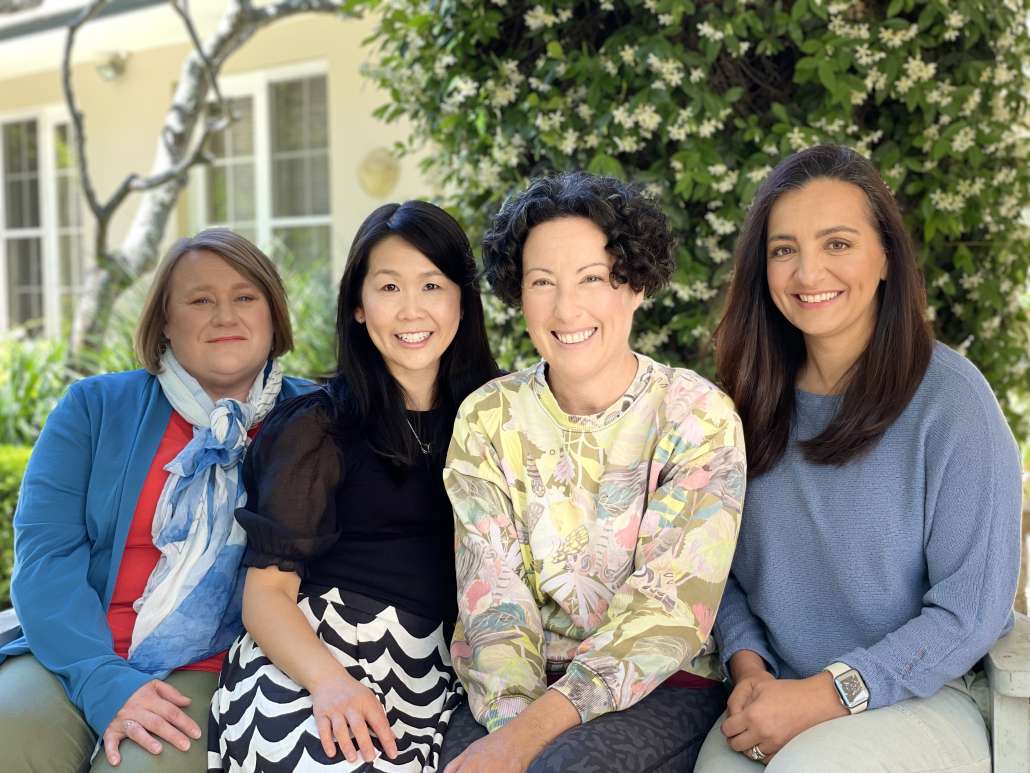 Pre school program
Cycle 1: 3-6 years.
The Children's House
Modelled after Maria Montessori's 'Casa di Bambini', the Cycle 1 is a beautiful, orderly 'home away from home' where your child can explore with all their senses.  The Montessori East carefully prepared classrooms and bespoke Montessori materials entice their natural joy to learn, while developing specific skills and laying the foundations for concentration, coordination, order and independence.  Children in their third year, or kindergarten year, take on a special role as leaders in the class, helping younger students and assuming more responsibilities.
The teacher's guide each child through a broad curriculum covering: Practical Life, Sensorial, Language, Mathematics and Culture.
Read about Cycle 1 in our blog.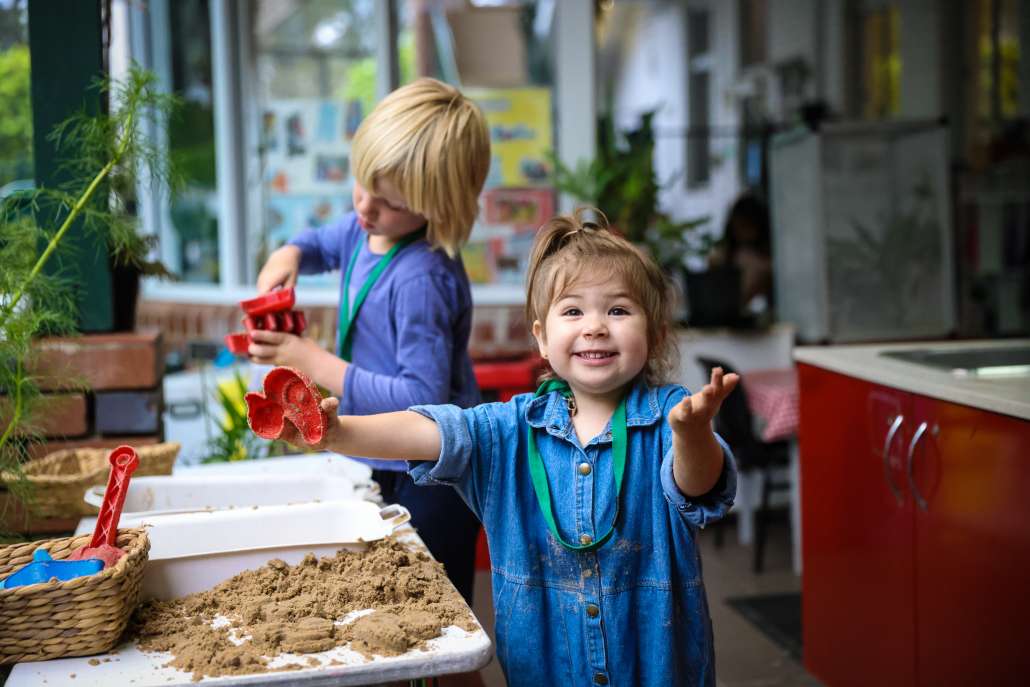 Practical Life
The Practical Life area responds to the child's drive to becoming independent. The activities are ones that the children see as part of daily routine at home as well as lessons in social graces and courtesy. They practice things like food preparation, watering plants and sweeping. Practical life encompasses four main areas: Control of Movement, Care of Person, Care of the Environment and Grace and Courtesy.
Sensorial
The Sensorial Materials are archetypal Montessori materials; colourful, textured and exciting to the children's senses. Appealing to the five senses, these exercises become the basis for maths, language and the arts.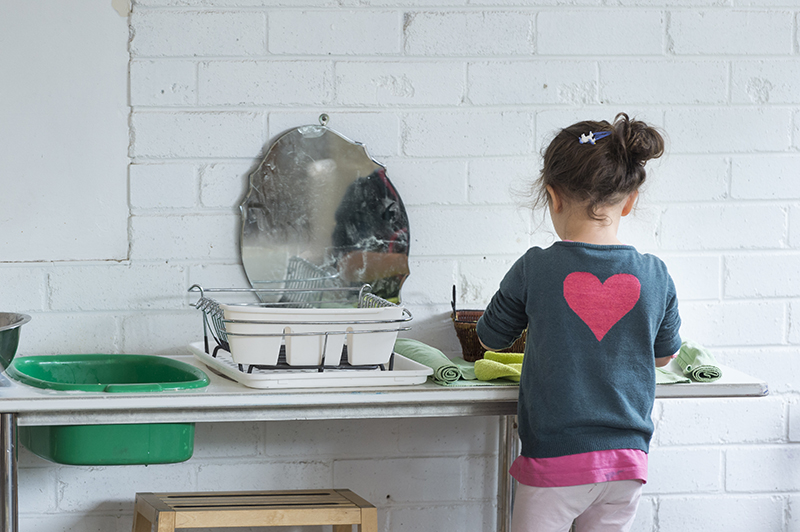 Language
The Montessori language materials (such as sandpaper letters, moveable alphabet, metal insets) lead children effortlessly to writing and reading. The Montessori activities build skills in sound discrimination, prepare the hand for writing, encourage the development of written expression and lay a foundation of phonetic skills that prepare your child for reading.
Mathematics
Montessori mathematical materials introduce children to mathematical concepts in a concrete form. Working with precise materials such as number rods, golden beads and the chain cabinet, the children learn the decimal system, quantity and value, building a secure foundation for future abstract concepts and problem solving in mathematics.
Cultural Arts
Children are introduced to a range of cultural subjects through especially prepared extensions to the sensorial and language materials. The use of storytelling and visual material such as maps, flags, timelines and materials depicting the animal world and the natural environment, extends the children's experience into cultural areas including geography, biology, history, art and science. Through these studies children learn to respect and appreciate their culture, country and natural environment, and those of others, instilling qualities such as empathy and tolerance.
Schedule
The Pre school program is five days per week and children attend either a half-day or full-day. Morning sessions 8:30-12:00pm are for the youngest children until they transition to full days. Full day sessions 8:30am to 3:15pm. After-school care is available for children 4 years old and above.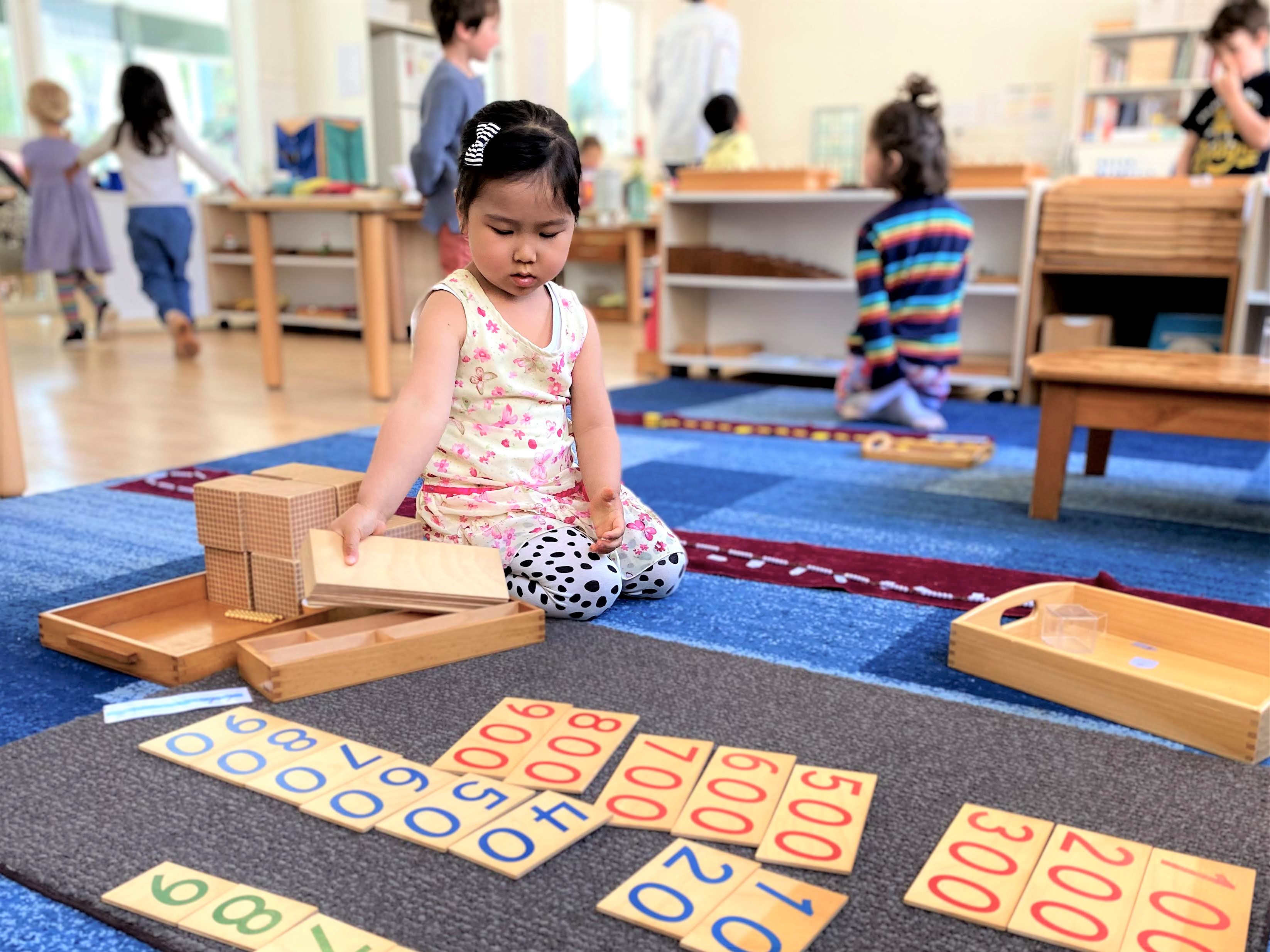 Primary school
Cycle 2 & 3:
6-12 years old.
Learning & Discovery Communities
The Montessori East primary school is a non-competitive space, designed to inspire and challenge students to discover the best of who they are and to achieve their full potential. Children spend their days working both individually and collaboratively across the curriculum in five overarching themes: astronomy and earth sciences, life sciences, social sciences, creative arts, literature and mathematics. The Montessori experiential materials continue to help the child explore and refine their skills in core competencies.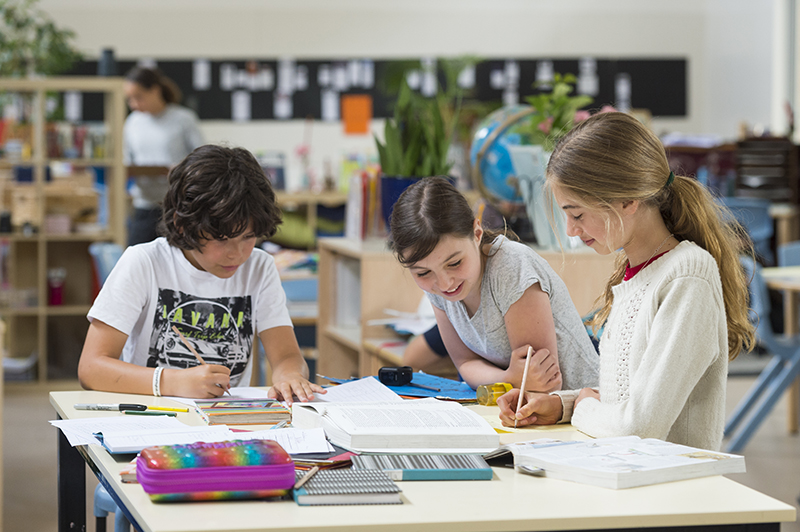 "Joy, feeling one's own value, being appreciated and loved by others, feeling useful and capable of production are all factors of enormous value for the human soul."
Maria Montessori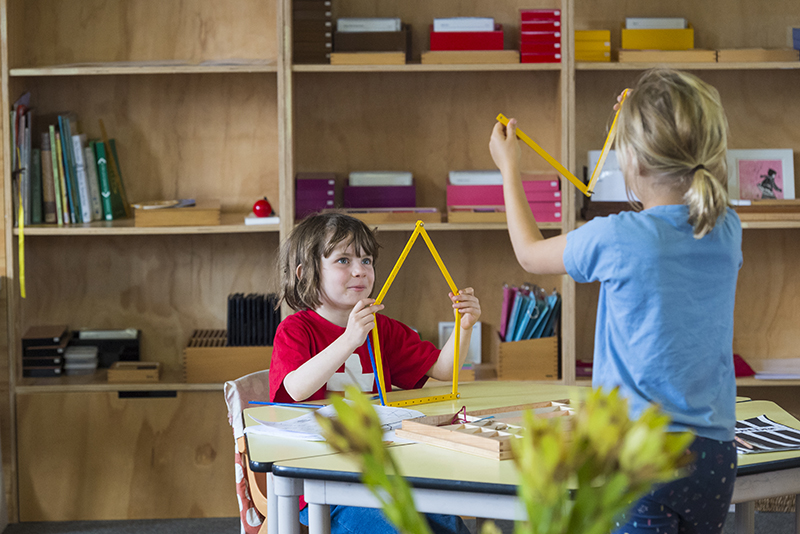 Primary school is divided into two stages each covering three years: 6- to 9-year-olds (Cycle 2) and 9- to 12-year-old children (Cycle 3). Children spend three consecutive years in the same class with the same educators. The result is a richer, sustained community that evolves over time. Children enter as the youngest in the community, then over time take on the role of leaders and experts as they become the oldest.
During these years, children have stamina and a thirst for knowledge, a sense of wonder and increasing independence. To entice their curiosity, the Montessori curriculum offers them the Great Lessons that invite them to explore the world around them from the farthest reaches of the cosmos to the smallest flower.
Democratic Society.
Codes of conduct are discussed at weekly meetings to decide duties and responsibilities and to resolve problems. Actively contributing through practical roles in maintaining the space and harmony of the community is an important aspect of classroom participation.
The lessons in Cycle 2 and 3 form part of the daily curriculum and are in accordance with the NSW Education Standards Authority (NESA). They fall into the key learning areas: Language, Mathematics, History & Geography, Science and Technology, Personal Development, Creative Arts, Social and Emotional Development. Read our blog to learn more about the primary program.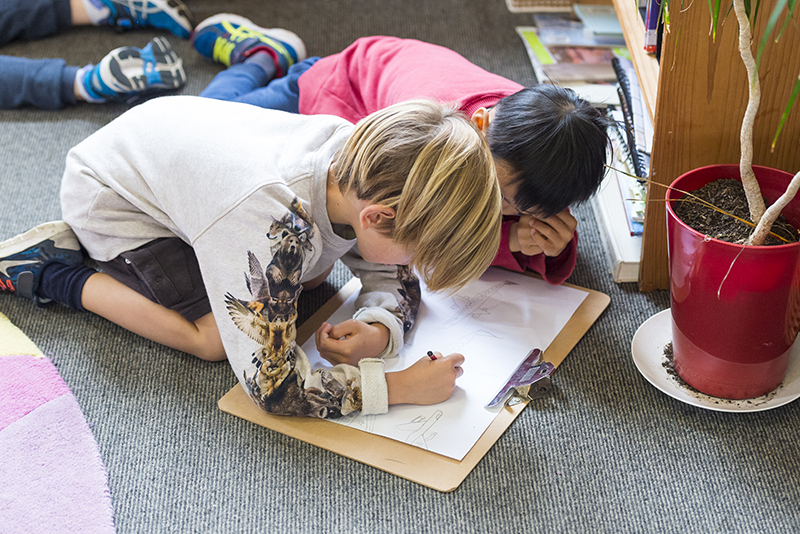 Goings Out.
Groups of students plan and carry out their own investigative excursions, building life skills and independence, while learning about particular topics.
Community Engagement.
This is pursued through group projects around the school, as part of the local community, or even further afield. See Community.
Outstanding Teaching Team.
We're very proud of our team of educators at Montessori East Bondi. Each teacher and assistant teacher at Montessori East has been chosen for their skill and shared values that bring a warmth of spirit throughout the school. Our lead teachers are tertiary qualified and have completed additional certification to be a Montessori teacher with Association Montessori International (AMI).
Becoming an AMI Montessori trained teacher is a transformative life-long career where you are supported with professional mentoring, development and leadership training. There are a number of career training options for Montessori both within Australia and overseas. For more information contact the Sydney Montessori Training Centre (SMTC).